Surface 678 has received an Honorable Mention for participation in the Atlantic Beach Boardwalk International Design Competition. The Town of Atlantic Beach, North Carolina is using an international design competition to select the firm to lead the design of a major upgrade to its oceanside boardwalk and surrounding areas. Over 50 architecture and landscape architecture firms from around the world submitted designs for the competition. The judges did not know the name or location of any submitting firms. Out of the 50 firms that participated, 3 were selected as semi-finalists and 7 firms received an honorable mention. Surface 678 is the only local North Carolina firm to receive any award in the competition against firms from across the globe including London, New York City, Panama, Canada, Finland, and Mexico.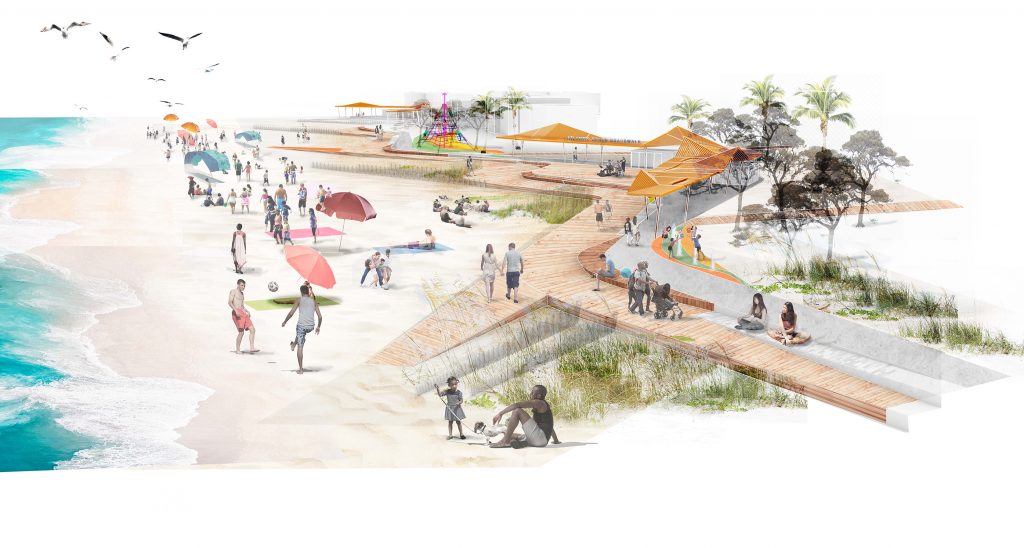 This competition was an opportunity for designers to reimagine the Atlantic Beach Boardwalk. We are excited to have teamed with Katherine Hogan Architects and Riggs Ward Design on this effort. Our team's submission was focused on a "Confluence," a joining or flowing together of people and waters. The flow of water, people, fish and coastal living form a community that necessitates infrastructure, transportation, capital and green revenue sources.
For our design, water was the driving force behind the initial development of both form and program within and around the Boardwalk. Resiliency was the functional imperative which gives every design element and activity feasibility and meaning. Together they generate the conceptual framework for the site's design. Within this rubric of function and intent we approach five "constituencies" which inform the rich development of unique and memorable spaces: culture, activity, nature, infrastructure, and resiliency.

We are proud of our design and extremely proud of our Honorable Mention among such strong competition.